Edson Rorabeck, Azusa Artist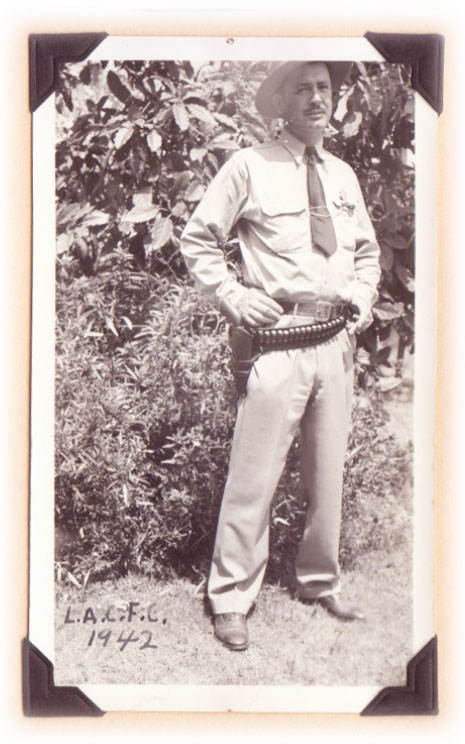 Edson Rorabeck was a local artist and character living in Azusa, California until his death on July 21, 1966. He was famous for his depression era paintings covering marine scapes and common people. He was born in Washington January 19, 1902 and settled in Los Angeles in 1914. His works were displayed at a number of significant art shows including the Webb Gallery in Los Angeles in 1935, Laguna Beach AA in 1945, the Arcadia Art Festival 1954, and the Faulkner Gallery in Santa Barbara 1956. His A-frame studio at 325 Crescent Drive, the old P&E right of way, was a warm, airy room where he worked when he was alone, but friends spent many hours in his solid wood patio chairs in the garden in the 1950s and 60s.
He had a 15 year relationship with Dorothy Deuel Rubel and when Michael Rubel was a teenager Edson gave him a number of things. Aside from some of his art and his 303 Enfield rifle, Michael acquired the 1932 Ford Tudor V8, which had been kept in excellent running condition for years by Michael's brother, Chris Rubel.
Chris Rubel remembers: "He was a classy and robust man in his day and a bi-polar artist. He was a motorcycle messenger in Los Angeles in the 1920s and a dock worker as a kid, etc. I loved him a lot. He shot Blitzen for me. I drove him all over, like to Bodie and other places for his sketching and painting. Jackie, his beautiful daughter (Kasun) was the pride of his life. Her mother was also his first intense love, but she died giving birth to Jackie. Helen was his second wife.
"I've got a whole file of wonderful letters from Edson. He wrote to me while I was in Japan, those 19 months, and wrote letters at other times, too, and we had a close bond for a long time. Like Michael did, I cultivated a few surrogate fathers in my early years, and Edson was one of them. Dorothy kept trying to domesticate him. She helped him get his real estate license and they worked together, but he hated selling and hated real estate, especially. Dorothy loved him partly because he was such a dashing, manly escort and would do anything to please her.
"He was in advertising for a while, but his painting was always a tortured and frustrating aspect of his life. Artists have a tough row to hoe."
Below are some thumbnail links to a few of Edson's paintings, as well as some scrap book pages found in 2010 by Lavon Urbonas (Scott Rubel's mother), which show a little snippet of Edson's life.
Text of 1956 newspaper article by Idella Cloutman.
Azusan to Display Art Work at Show In Santa Barbara
A two man show presented by the Santa Barbara Council of Arts opened last week with a reception at the Faulkner Library in Santa Barbara. The showing, arranged by Council President Harry McGuire, will continue throughout the month of January. Edson Rorabeck, painter, Azusa, and Henry Feist, sculptor and painter of Santa Barbara are the artists.
Edson Rorabeck, who shares the exhibit with Feist, has lived in Azusa for the past 25 years. He has free lanced in the commercial art field, but now works entirely at his landscapes, seascapes and portraits.
Born of school teacher parents in the little fishing village of Chinock, Wash., at the mouth of the Columbia river, his boyhood was spent in small towns up and down the Pacific coast.
In his early manhood, he wandered along San Fancisco's Embarcadero. He became a plate hanger in the old Southwestern yard at San Pedro; an ore sampler with a crew of miners; a crane chaser in a tank house; a lead-burner's helper for the New Cornelia Copper Co. in Ajo, Arizona; a surveyor at the Big Creek project in San Joaquin Valley; and finally a trick motorcycle racer and stunt rider in Hollywood.
Pursues Art
Through the years courses in art held his main interest and he eventually studied at Chouinard's Art Institute. among his teachers were Fredric Leiders, Vernon More, Lawrence Murphy, and the noted illustrator, Pruett Carter.
Some of the large marine paintings in the current exhibit were first sketched at Point Arguello, north of Santa Barbara.